Dates for TEDxExeter 2020 announced
3rd October 2019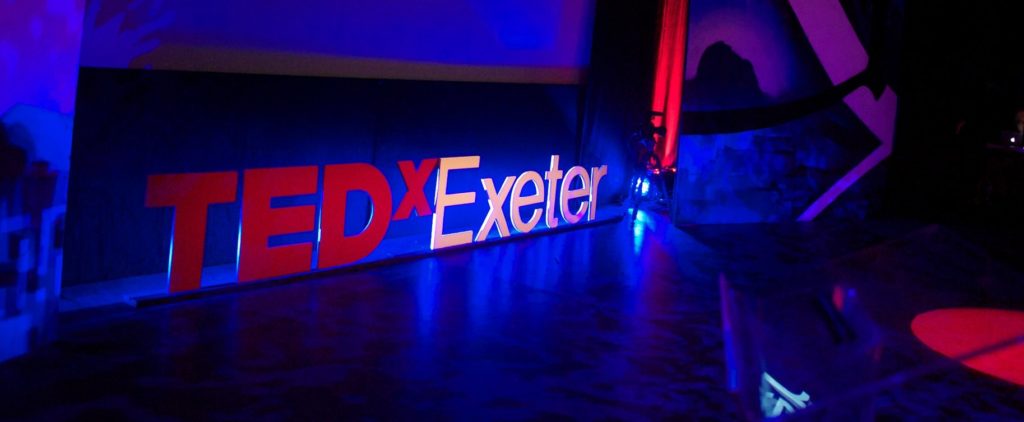 The TEDxExeter team are deep in preparation for another exceptional event – our 9th!
TEDxExeter 2020 will be held at the Northcott Theatre on 17th April 2020,
Tickets will be going on sale at 10am Friday 29th November 2019, we promise we will remind you nearer the time.
As usual we will be offering schools the opportunity to book tickets in advance for our livestream in the University's Alumni Auditorium.
Schools bookings will open on 1st November with a limited number of student tickets available.
Partner with TEDxExeter
TEDxExeter 2020 will be our 9th annual Festival of Ideas and we have so much to celebrate. We're ranked the 4th TEDx in the world for talks with over 1 million views on TED.com after events in Boston, Washington and Sydney. And in 2020 we have exciting plans to deepen the impact and reach of our speakers' ideas as well as including more people at our events – and to do it, we need your help.
Neither our volunteer organising team nor our speakers are paid, but there are still significant costs in putting on our events. We're now seeking more Partners to join the forward thinking businesses and organisations who make this happen.
If you'd like to support our vision and work please contact our Partnership team and they will be delighted to tell you about opportunities for getting involved.
We couldn't put on TEDxExeter without our partners and we are very grateful to them for their generosity and support.
Find out more about partnering with TEDxExeter
TEDxExeter 2017 speaker, Gulalai Ismail has fled to the USA after months in hiding in Pakistan
An activist against radicalisation, Gulalai works tirelessly to help young people at risk of being manipulated into violent jihad, giving them hope to live in peace.
Find out more about Gulalai in this recent BBC News report and interview
Watch Gulalai's talk at TEDxExeter 2017
Be a (non-violent) hero, not a martyr
How can we encourage young Muslims to choose life, not violent jihad? Until she was 16, Gulalai Ismail hoped to die a martyr. Now she leads a network of educators in Pakistan which has helped 10,000 young people at risk of radicalization to build peaceful communities. In this talk she explains her journey from would-be jihadi to a passionate campaigner against intolerance and extremist violence.