With the COP26 UN Climate Change Conference starting tomorrow, expectations are high. Many believe this to be 'the best last chance to get runaway climate change under control'. Greta Thunberg has warned of a 'build back better blah blah blah', approach. The world cannot afford a cop-out at COP26. The stakes are too high.

Throughout COP26 we will share a curated selection of new global TED Countdown talks, interspersed with popular TEDxExeter climate focused talks, demonstrating what a healthy, abundant, zero-emission future can look like, with stirring examples of real progress underway and powerful reasons why this is the time to act.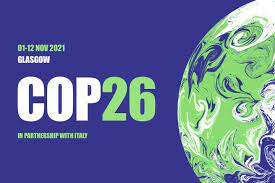 COP & Coffee
As world leaders gather in Glasgow, please join us on social media to engage in the climate conversation, at 11am every day of COP26. 
It's time: 'we're in the middle of a crisis, the alarm bells have been ringing and we can't keep hitting the snooze button', UN Deputy Secretary-General, Amina Mohammed, told the TED Countdown conference in Scotland earlier this month.
 
It's time to act: 'we know what it takes to get to net-zero by 2050. All we need is the will and investment, from both the public and private sector, to put plans into action' assured UN High Level Climate Change Action Champion, Nigel Topping and Climate Tech Investor, Gabriel Kra. So what can ordinary people do to convince them? 'Be political, demand change from your leaders.'
 
It's time to act together: activists, investors, scholars, entrepreneurs, politicians, youth leaders, scientists, urban planners, farmers, CEOs, artists, and government officials, have all pooled their energies globally to tackle the most challenging climate questions, and, crucially, to find the most effective, evidence-based ideas out there. The global Countdown goal is to identify bold solutions that can be activated when people break out of silos and rise to the challenge.
Ideas worth spreading
TEDxExeter is Exeter's Festival of Ideas, a local festival with global reach. Our talks are filmed, released freely on the TEDxYouTube channel and translated into up to 34 languages. They have been viewed over 24 million times by a truly global audience. TEDxExeter has been ranked the 4th TEDx in the world for talks with 1m+ views on TED.com.
TEDxExeter is organised by volunteers from the community, for the community. People who believe ideas can change the world. We organise one main, annual conference and additional, smaller events throughout the year.
We provide a unique platform in Exeter which brings together influential thinkers, policy makers and a diverse audience from across the city and beyond. We work hard to create stimulating and thought-provoking events – but our ultimate aim and greatest hope is that through them we can galvanise positive action.
Find out more about TEDxExeter
"TEDxExeter offers us the chance to lift our gaze above the day to day, to step back, to reflect, to be challenged, and to go out at the end of the day inspired to make a positive difference" Claire Kennedy, licensee and curator of TEDxExeter
"One of Exeter's best exports" Karime Hassan, Chief Executive and Growth Director of Exeter City Council
"TEDxExeter provides a launchpad for new ideas, supporting speakers from all walks of life to share their worlds, experiences and dreams. " Steve Simpson – TEDxExeter 2019 Speaker

"TEDx is stimulation and inspiration, different ways of looking at the world, it shows the world through other peoples' eyes." Chris Turner -TEDxExeter 2019 Speaker