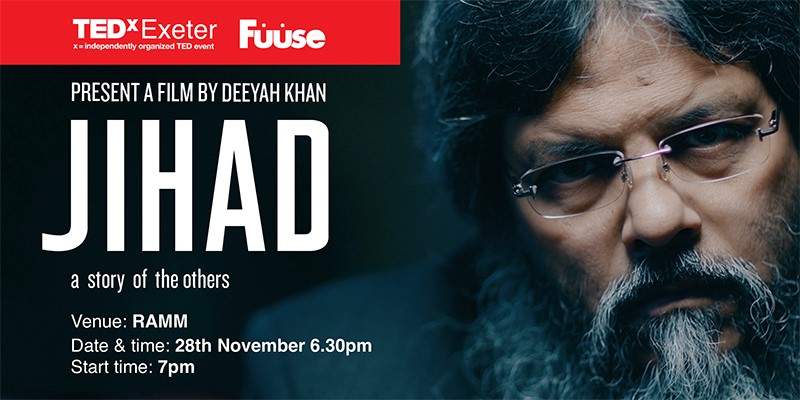 Adventure – Jihad: a story of the others
The world has watched aghast as thousands of young men and women abandon comfortable lives in the West to join the barbaric Isis. Girls and boys have gone from being apparently well-adjusted school kids, to enthusiastically joining the ranks of Kalashnikov-wielding religious warriors and burkah-clad "jihadi brides". It feels like a new and frightening phenomenon, one which has left many feeling bewildered and repulsed.
But as this new documentary film by Emmy Award winning director Deeyah Khan shows, Westerners embracing jihad is nothing new. For three generations now, young people across Europe have fallen prey to extremist groups and fought, killed and died with mujahideen movements from Afghanistan, Bosnia, and Kashmir, to Chechnya and Burma.

In this film, Deeyah, who has faced threats from extremist fundamentalists in the past, sets out to find out why the jihadi message has such an alluring hold on young Westerners.

At TEDxExeter 2016 Deeyah and former jihadist Manwar Ali spoke powerfully about jihad and what draws young people to radicalisation, and they both returned to Exeter to share the film with the TEDxExeter community.
Some of the accolades for Jihad: a story of the others:
2016 BAFTA nomination in the Current Affairs documentary category
Shortlisted for Best Documentary on Current Affairs at the 2016 Grierson Awards
Nominated for a 2016 Golden Nymph Award at Monte-Carlo TV Festival Norwegian Ministry of Arts & Culture Human Rights Award
"Anyone wishing to understand why thousands of Western-born Muslims are leaving comfortable homes to fight with Isis would do well to watch Deeyah Khan's powerful new film, Jihad … featuring extraordinary interviews."
The Independent on Sunday

"Great journalism often challenges the official version of events. That's what Deeyah Khan's film Jihad does to the story which governments and tabloids like to tell about the radicalisation of Muslims. She takes those clichés and caricatures, shreds them, and then she lets you see what is really happening."
Nick Davies, Special Correspondent, the Guardian.
Watch Deeyah's and Manwar's talks from TEDxExeter 2016